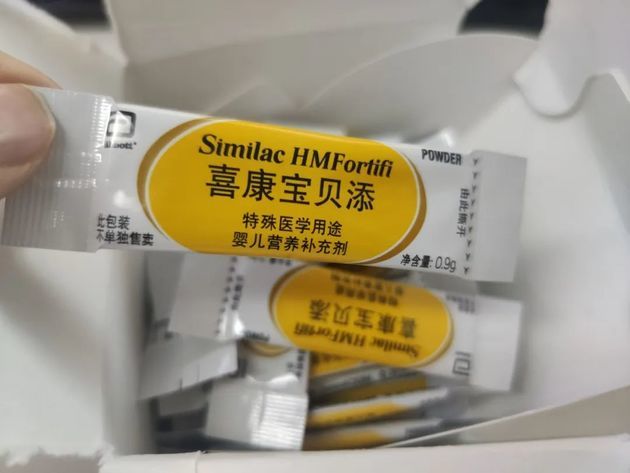 (Breast milk fortifier Similac is often used to support the growth and development
of preterm or?low birth weight babies.?Photo/Provided by parents of victims)
"I've asked myself 10,000 times that if I had not given my children Abbott breast milk fortifier "Similac", would I have avoided such a tragedy?" said Li Chao, a twin mother in China with both of her children tortured by bacteria infection after using the product, to National Business Daily (NBD) in an interview.
On Feb 18, US Food and Drug Administration (FDA) said?that it is investigating consumer complaints of?Cronobacter sakazakii?and?Salmonella?Newport infections. All of the cases (including two deaths) have been reported to have consumed powdered infant formula produced from Abbott Nutrition's Sturgis, Michigan facility.?
In less than 48 hours following the report, the General Administration of Customs of China (GACC) announced that "Abbott China recalled a special medical product", reminding consumers of immediately stop using it.
According to the World Health Organization, about 1 million to 2 million premature babies are born in China every year, accounting for about 10% of the world's total. Abbott's breast milk fortifier remains a top choice of many Chinese parents.
Over the past two months, NBD conducted an investigation in more than ten cities across China and found more than ten babies suffered from different degrees of health problems such as abdominal distension, blood in the stool, and bowel necrosis. Parents of those little victims suspect that there is a relation between bacteria infection and the recalled product.?
FDA probe shows bacteria infection in production facilities
According to data from Euromonitor, Abbott ranked seventh in China's infant formula milk powder market with a market share of 6.2% in 2020. In addition to milk powder, Abbott has sold breast milk fortifiers in China for many years.
"My baby consumes 9 boxes (580 yuan a box) of milk fortifiers a month, with the monthly cost reaching as high as over 5,000 yuan," said Wu Yu.
Chinese parents whose children were tortured with bacteria infection cannot pull themselves together following the FDA's investigation and GACC's announcement relating to the product.
The FDA's March 22 investigation report showed that Cronobacter spp was found in the infant milk powder production environment and finished milk powder at the Sturgis factory.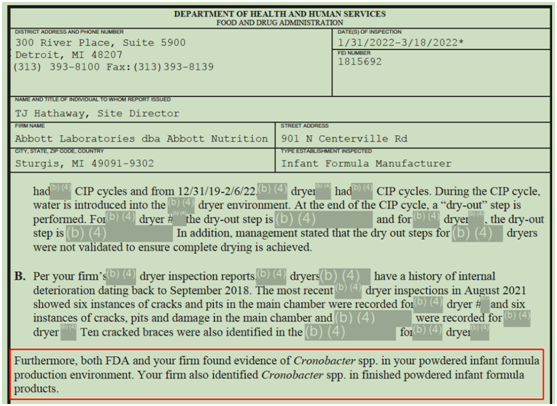 Photo/From FDA report
Cronobacter sakazakii may cause meningitis, septicemia or necrotizing colitis in premature infants, infants with low birth weight, and immunocompromised infants, with a death rate of as high as 40%~50%, said GACC.
But the FDA has not detected Cronobacter or Salmonella in any of Abbott's sold products and related samples," said Abbott China in response to NBD's request for comment.
"Our top priority is continuing to ensure that any recalled product produced at this facility is taken off the market. The FDA is continuing to investigate and will continue to update our consumer alert should additional consumer safety information become available," the FDA said in an interview with NBD.
At present, GACC has publicly stated that it will closely follow up on the progress of the FDA's investigation and will inform consumers in a timely manner.
Similar tragedies staged in multiple Chinese cities
Over the past two months, NBD conducted an investigation in more than ten cities across China and found more than ten babies suffered from different degrees of health problems such as abdominal distension, blood in the stool, small intestine necrosis, including one death case.?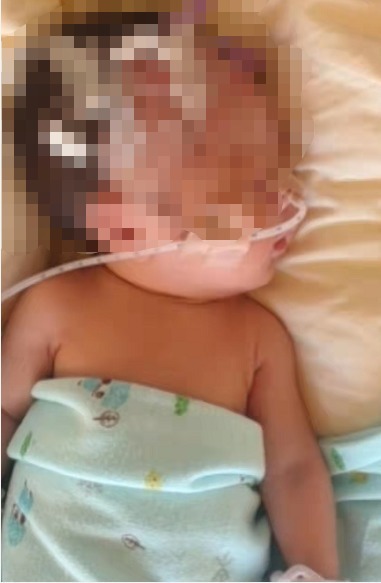 (victim of Abbott breast milk fortifier on Feb 22 Photo/provided to NBD )
Case 1
Li Chao, a twin mother in southwest China told NBD that on the third day following her twins' birth, the little baby with better indicators was treated with the breast milk fortifier first, which was bought and handed to NICU workers.
The baby was infected with bacteria twice during the following 10 days and did not manage to survive. One month later, her elder baby began to use the same breast milk fortifier and suffered from bacteria infection too.
Case 2
In September 2021, a pre-mature baby in China's Hunan Province was discharged from the hospital one month after the birth and was treated with Abbott milk fortifier following the doctor's prescription when returning home. "In less than 2 hours after taking half strip (0.5g) of the breast milk fortifier, my baby was sent to hospital for shortness of breath," said the parent Zhang Changan. "After a slew of examination, we learned that it is bacteria infection to blame."
Case 3
In October 2021, a 30-week premature baby from Shandong Province was treated with Abbott breast milk fortifier at 17 days old. The baby was urgently transferred to another hospital the next day and was diagnosed with NEC (necrotizing enterocolitis of the newborn). The doctor told the child's father to be mentally prepared as NEC has a 50% mortality rate."
Case 4
In 2021, Tian Li's premature baby showed symptoms of hematochezia after taking Abbott's breast milk fortifier and was later diagnosed with NEC. "Intestinal stricture occurred after conservative treatment, and the baby was later given a colectomy and anastomosis operation. The treatment cost in hospital is estimated to be 150,000 yuan," Tian Li said.
Case 5
Tong Zhuo's child had his small intestine removed due to NEC, and the remaining part is less than 50 cm. The baby is currently suffering from short bowel syndrome and is still hospitalized. According to Tong, so far the medical expenditure has amounted to around 400,000 yuan.
NBD found that multiple families have been caught in financial problems after their children were hospitalized following the use of Similac products. "At the most difficult time, we couldn't pay the medical bills and sought ways to borrow money," said Li Chao who had spent more than 200,000 yuan to save her child.
Suffering Chinese parents hard to collect evidence
"The nationwide voluntary recall of Similac is a responsible act of the company," said Abbott China to NBD. "Up to now, the recall work has almost been completed with products being sealed and handled strictly in line with government's requirements."
Consumers have no way of knowing whether these breast milk fortifiers that have been recalled by Abbott China have been re-inspected and what the re-inspection results will be. When asking whether the recalled products are re-inspected and demanding an inspection report, parent Tang Ping was rejected by Abbott's customer service.
"Abbott kept asking me to provide evidence," said parent Zhang Changan, adding "I was almost a half "detective". Another parent Wu Yu told NBD that he consulted 5 institutions but all of them are unable to do the test. NBD reporter encountered the same situation.
Wu Yu finally found one company in Shanghai that can conduct the test but it requires a minimum of 200g samples (1 strip: 0.9g). Wu advocates that the parents of victims can gather their Similac and do the test then.?
"The city has recalled 580 boxes of Similac, so there is no Similac available on the market, " said a source of a city's market regulation department to NBD in an interview.?
On the afternoon of April 14, the second mediation between Abbott and Li Chao was held. Li Chao told NBD that she asked Abbott to re-inspect the recalled breast milk fortifier, but the Abbott staff said that the recalled products had been sealed and no re-inspection samples will be provided. The regulatory party believed that the re-inspection requirements proposed by Li Chao were reasonable.
"As an internationally renowned brand, Abbott has the responsibility to re-inspect the recalled products and inform consumers of the results," Wang Silu, a national senior food inspector, said in an interview with NBD.
"Newborns are susceptible to NEC and premature babies are the most vulnerable," said Shi Yun, a doctor in the neonatology department of Chengdu Women's and Children's Central Hospital, said in an interview with NBD. "The most contradictory part is that parents are unable to provide evidence and doctors are unable to give a conclusion either. Apparently, it is inappropriate to say the product is the only to blame.
A pediatrician from a first-class hospital told NBD that although it is impossible to prove that the product directly causes diseases, Abbott needs to show its attitude and shouldn't ask patients to provide proof that they cannot provide. The correlation between cases in the future, for example, how many related cases happened across the country, should be closely monitored."
So far, FDA also cannot say that Abbott milk fortifier is a direct cause of bacteria infection in infants. According to an April report of FDA, CDC has completed laboratory testing for two clinical samples received related to this investigation. Analysis performed by WGS did not find these samples for patients to be a genetic match to the multiple strains of Cronobacter found in the environmental samples obtained from Abbott Nutrition's Sturgis, Michigan facility or to any other clinical isolates in the National Center for Biotechnology Informatics.?
Chen Zixing, a lawyer from Beijing Anbo (Chengdu) Law Firm, told NBD that parents of babies with serious health problems can directly file lawsuits against breast milk fortifier retailers and Abbott. Before overseas products enter China, the customs authority has the right to supervise and sample-test the products. If there is a problem, consumers can file a complaint with the relevant regulator in their city and the regulator has the right to inspect the product after receiving the complaint."
Note: Interviewees in the article are all under pseudonyms.?
(NBD reporter Xu Libo also contributed to this article)
(Cover image from VCG)
Email: lansuying@nbd.com.cn
Editor: Tan Yuhan