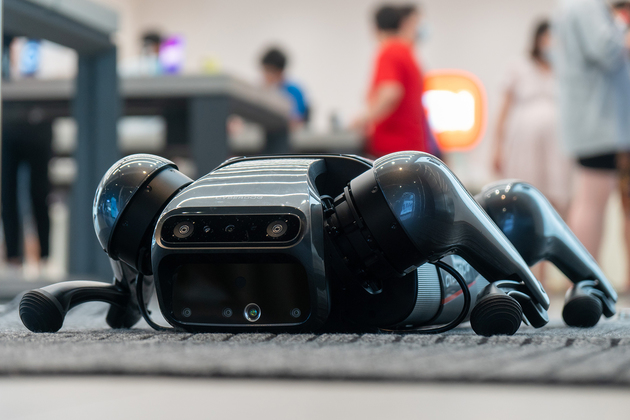 Xiaomi CyberDog (Photo--VCG111346690774)
Around 50 Chinese companies, including Huawei, ZTE and Xiaomi, are present at the annual Mobile World Congress (MWC), which opened its doors here on Monday.
According to the market research company Counterpoint Research, seven out of the top ten smartphone brands most popular in Europe are based in China, and the Chinese manufacturers present at the MWC appear determined to bring this figure higher.
In 2020, the COVID-19 pandemic forced the cancelation of the MWC and last year's event had to be scaled down. This year, however, the congress is back with a bang and the participants are again able to reconnect face-to-face.
Thomas Herron, Xiaomi Technology's head of communications, western Europe, told Xinhua that his company was "excited to be able to come back and meet people at the MWC."
He said that Xiaomi was showcasing several products, such as its recently launched Redmi Note 11 smartphone.
"At Xiaomi, we have a huge breadth of products, from a cyber dog to our connected ecosystem of AIT products, and our other brand, POCO, is launching two new products here today," he said.
On Sunday, Huawei launched two personal computers (PCs) in its MateBook series -- the Matebook E with a 12.6-inch OLED display and the X Pro 2022 with a 14-inch display.
Speaking at the launch event, Richard Yu, chief executive officer (CEO) of the Huawei Consumer Business Group, said he was optimistic about the future, noting that his company had weathered the "hard winter" and was now "looking forward to enjoying the warmth of the spring."
Former Huawei subsidiary Honor, which is now an independent brand, shows off its Magic 4 series at the MWC.
Lenovo, OPPO, China Telecom and ZTE are also all present in Barcelona.
"We have seen that the digital transformation is very much ongoing after two years affected by the pandemic," commented David An Wei, chief technology officer (CTO) of Group Asia for ZTE.
?
Email: lansuying@nbd.com.cn
Editor: Lan Suying