On January 6, the MICHELIN Guide released its first recommendations of restaurants in Chengdu, and the capital city of Sichuan province became the fourth city in the Chinese mainland-- after Shanghai, Guangzhou, and Beijing-- to welcome the famously anonymous inspectors.
"I think it's important that the MICHELIN Guide is recognizing Chengdu as a center of gastronomy," Fuchsia Dunlop, award-winning writer specializing in Chinese food, said to National Business Daily (NBD), "as many people outside China see the MICHELIN Guide as one of the supreme judges of restaurants, so these stars for Chengdu will attract more international gourmets to visit the city and deepen their appreciation of Chinese and Sichuanese cuisines."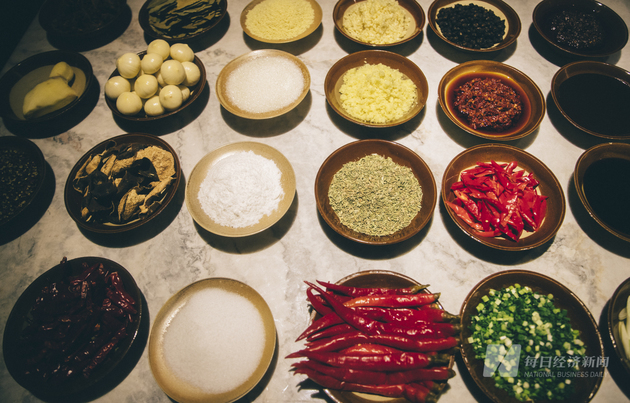 Photo/Zhang Jian (NBD)
In a small alley near the historical blocks of Chengdu, behind undecorated brick wall and a wooden door, there is a three-room restaurant named Yuzhilan. In contrast to the unpretentious family-style environment, Yuzhilan is the only two-star restaurant on the MICHELIN Guide for Chengdu.
It all comes down to the legendary chef Lan Guijun famous for his masterful interpretations of Sichuan food. Born in 1965, Lan honed his skills in Sichuan cuisine in the 80s and 90s at Shufeng Garden, the cradle of many local culinary masters. In 2002, he opened his own restaurant Village Cook, and it became an instant success.
However, in 2007, Lan surprisingly shut the restaurant and disappeared. He spent the next four years secretly experimenting on his understanding of culinary refinement, to the extent of making his own pottery in Jingdezhen 1,000 miles away from Chengdu.?
The reasons, according to Dunlop, were his two-year stint in Japan in the 90s where he was impressed by the beauty of Japanese dishes and family-run restaurants, and dining at the MICHELIN 3-star French Laundry in California during a trip to the U.S. in 2004, which inspired him to pursue small-scale perfection.
In 2011, Yuzhilan opened for business. It was Lan's ambition to raise Sichuan cuisine, which is usually considered exciting but cheap, to high-level banquet style. A full course at Yuzhilan includes 10 appetizers, 8 dishes, one bowl of noodles and 2 snacks. The food is served individually instead of the conventional "family style", with plates designed by Lan himself.
"Using soup instead of additives for cooking, and presenting the natural flavor of ingredients -- these are the original way of Chinese cooking," Lan explained his philosophy to NBD. This marks a U-turn of his younger days, when he was generous with chilli pepper and the numbing Sichuan pepper, the most distinctive flavors of Sichuan food.
The noodle is an excellent example. It's handmade and so thin that it can penetrate the eye of a needle, and made from doughs that uses yolk of duck egg instead of water. After boiling, the noodle is put into intricately prepared "supreme soup", decorated with only a single cabbage heart.
Dunlop accompanied late Anthony Bourdain and éric Ripert in Season 8 of Parts Unknown to explain Lan's cooking while they dined at Yuzhilan. For her, Lan's food "is representative of the flavours of Sichuan while being highly individual and utterly distinctive, both respectful of Sichuan's amazing culinary heritage and contemporary", she said to NBD.
Chef Chen Tianfu started Chaimen Hui with similar vision. Chaimen Hui was awarded one Star in the first edition of the MICHELIN Guide Chengdu.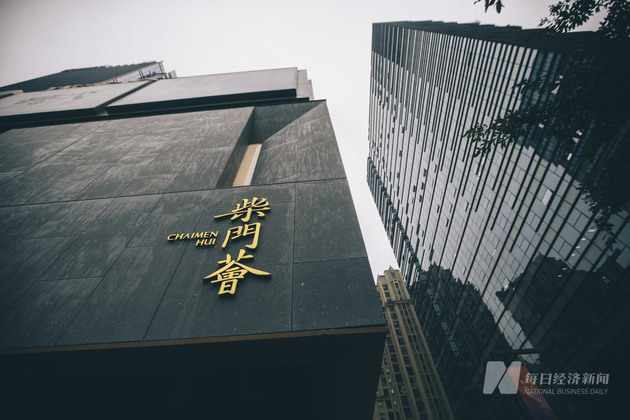 Chaimen Hui Photo/Zhang Jian (NBD)
Snowflake minced chicken is a classic but largely forgotten delicacy of Sichuan cuisine. To make it, a cook has to laboriously mince chicken breast meat till it looks like mashed potato, then stir it with egg white and starch to make a milkshake-like mixture before cooking. The final work is white as snow with a tender and umami taste.
Traditionally, the dish is served with sprinkles of chopped ham on top. At Chaimen Hui, a high-end restaurant in the bustling business area of Chengdu, slices of black truffle are used instead.
"The temperature of the finished chicken is just right for stimulating the rich flavor of truffle," Chen Tianfu, founder and chef of Chaimen Hui, told NBD, "the truffle is from France, but the dish is still an expression of the Sichuan cuisine".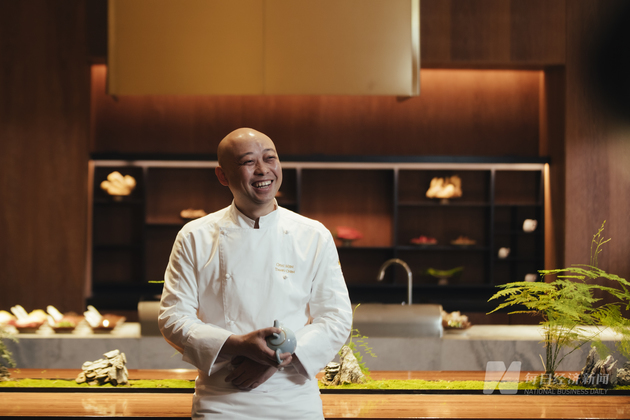 Chen Tianfu Photo/Zhang Jian (NBD)
The chicken with truffle is his effort to elevate Sichuan cuisine with global ingredient. Indeed, he is an ardent hunter for quality ingredient, spending his spare time traveling around for things like the finest pork and Sichuan pepper.
For him, the recognition from the MICHELIN Guide is not only about the quality of food, but also about cherishing the creativity of the chef. "Cooking is aesthetics, it's art. In the future, people are willing to pay for chef's creativity. I think MICHELIN Guide is good for promoting the idea," Chen told NBD.
?
Email: gaohan@nbd.com.cn
Editor: Gao Han